[[Video:LEGO® Ninjago -- Constrictai|thumb|300px|right|Zane vs.
Skalidor
]]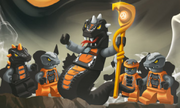 The Constrictai are a tribe of the Serpentine. They are black with orange detailing and the occasional silver detail. The known members are Skalidor, Bytar, Chokun, and Snike. The snake staff symbol is three ovals intertwined together. The Constrictai have been known to tunnel and otherwise live underground. According to the Ninjago tv series, the Constrictai were released by Pythor P. Chumsworth after he stole the map from Lloyd Garmadon. This tribe was the first tribe not to be released by Lloyd.
Gallery:
Edit
Ad blocker interference detected!
Wikia is a free-to-use site that makes money from advertising. We have a modified experience for viewers using ad blockers

Wikia is not accessible if you've made further modifications. Remove the custom ad blocker rule(s) and the page will load as expected.